The end of 2015 is coming soon. I decided to make a list of some of the things I want or will do in 2016. Create your own list and post it to our board. Meet you at the bottom of the list
1. Go to Comic- Con in San Diego
2. See another series of Cowboy Bebop where Spike is still alive.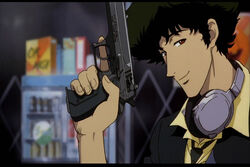 3. Speak, read, and understand the Japanese language.
IV. Publish a Batman or Flash story for DC.
5. Publish A X-Men or Spider-man story for the Mouse.
6. Have Stan Lee sign a book for me that doesn't cost 80.00. ( I met Stan Lee at Dragon- Con 3 years ago but I wasn't going to pay 80.00 bucks for his autograph !! )

7. Get into the Guinness Book of World Records for participating in the Largest Tabletop battle of Battle Tech/ Aero Tech/ City Tech including 3D buildings and Dropships.
8. Meet and Greet with John Byrne, Chris Claremont, Alan Moore, and Frank Miller.
9. A Fantastic Four movie that doesn't make me wretch.
10. Win on Jeopardy